The Six-Minute Commercial Leasing Lawyer 2020
Date
Thursday, February 13, 2020 (9:00 a.m.–12:30 p.m.)
Add this event to your calendar (Downloads an .ICS file)
Alternate date: Thursday, December 3, 2020 [click to view options]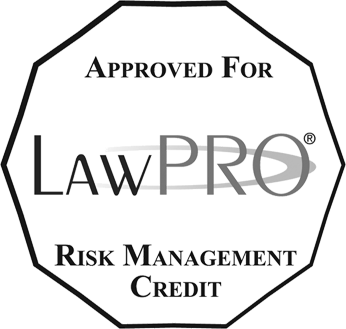 CPD Hour(s)*
3 h 30 m Substantive
0 Professionalism
Additional Information
Page Count: 247
* Remember: You must attend CPD programs or view them on demand to claim CPD Hours. Reading CPD materials alone does not qualify.
You may count recorded programs that you watch without a colleague towards your annual CPD Requirement—up to a maximum 6 hours. Recorded programs include archived webcasts, video replays, or any other on-demand program.
Co-Chairs
Joseph Grignano

,

Blake, Cassels & Graydon LLP

Alison Tortorice

,

Senior Director, Legal

The Cadillac Fairview Corporation Limited
Description
The sessions are short, pointed, and relevant for a reason. Our Six-Minute format delivers answers to your most pressing commercial leasing questions in a tight timeframe. We've matched key topics with the most apt presenters to better explain leasing fundamentals and niche areas of leasing, including subleases and the last day of the term, plus implications for landlords and tenants when retail space is converted to non-retail uses, and more.
Understand the top 10 rules of lease/contract interpretation
Learn about subleases and the last day of the term
Gain insight into implications for landlords and tenants when retail space in a centre is converted to non-retail uses
Presenters
Mervyn Allen

,

McMillan LLP

Yael Bogler

,

Owens Wright LLP

Blair Brooks

,

Director, Legal Services

,

The Cadillac Fairview Corporation Limited

Stuart Chaimberg

,

Miller Thomson LLP

P. Todd Davidson

,

Dentons Canada LLP

Elizabeth Earon

,

Blake, Cassels & Graydon LLP

Melodie Eng

,

Minden Gross LLP

Glenn Ernst

,

Goodmans LLP

Faruk Gafic

,

Aird & Berlis LLP

Celia Hitch

,

Senior Director, Legal Services

,

Morguard Investments Limited

Alex Kolandjian

,

Folger, Rubinoff LLP

Leanne Laughlin

,

Borden Ladner Gervais LLP

Karsten Lee

,

WeirFoulds LLP

Melissa McBain

,

Daoust Vukovich LLP

Megan Reilkoff

,

Gowling WLG (Canada) LLP

Julie Robbins

,

Vice-President, Legal Operations

,

Oxford Properties Group

Nancy Roberts

,

Osler, Hoskin & Harcourt LLP

Andrea Rossanese

,

Senior Counsel

,

Ivanhoe Cambridge Inc.

Sarah Turney

,

Fasken Martineau DuMoulin LLP

John Wolf

,

Blaney McMurtry LLP

Karen Yolevski

,

Vice-President, Commercial Business Development

,

Stewart Title Guaranty Company

Tatiana Zalar

,

Bennett Jones LLP