The Six-Minute Environmental Lawyer 2020
Date
Tuesday, October 27, 2020 (9:00 a.m.–12:00 p.m.)
Add this event to your calendar (Downloads an .ICS file)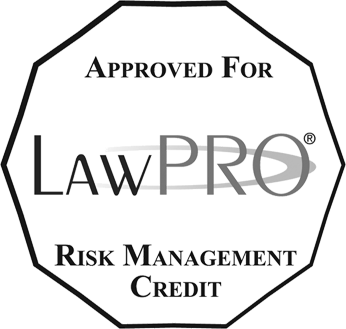 CPD Hour(s)*
3 h Substantive
0 Professionalism
Location
View this webcast-only program from your home or office computer
Additional Information
Page Count: 251
* Remember: You must attend CPD programs or view them on demand to claim CPD Hours. Reading CPD materials alone does not qualify.
You may count recorded programs that you watch without a colleague towards your annual CPD Requirement—up to a maximum 6 hours. Recorded programs include archived webcasts, video replays, or any other on-demand program.
Co-Chairs
Donna Shier, C.S.

,

Willms & Shier Environmental Lawyers LLP

John Georgakopoulos, C.S.

Willms & Shier Environmental Lawyers LLP

Ramani Nadarajah

,

Counsel

Canadian Environmental Law Association
Description
The six-minute format is uniquely suited to a focused, zoned-in overview of the latest developments in environmental law. We cover the key cases and policies with the highlights you need to know about: from climate change and health, to analysis of excess soil management legislation, and significant amendments to the brownfield/RSC regime. Finally, we've added a session on environmental compliance during COVID-19.
Presenters
Donna Shier, C.S.

,

Willms & Shier Environmental Lawyers LLP

Matthew Gardner

,

WIllms & Shier Environmental Lawyers LLP

Sarah Powell, C.S.

,

Davies Ward Phillips Vineberg LLP

Dayna Scott,

,

Professor, Faculty of Environmental Studies, Osgoode Hall Law School

,

York University

Raj Bharati

,

Assistant General Counsel

,

Technical Standards and Safety

Scott Pasternack

,

Legal Services Division

,

City of Toronto

Talia Gordner

,

McMillan LLP

Julia Schatz

,

Bennett Jones LLP

Dan Bunner, MSc, PGeo, Q.P.

,

Principal

,

Ramboll Environ Canada, Inc.

Nader Hasan

,

Stockwoods LLP

Stanley Berger, C.S.

,

Fogler, Rubinoff LLP

Nicholas Adamson

,

Ministry of the Attorney General, Legal Services Branch – Environment, Conservation and Parks

Guy Pratte

,

Borden Ladner Gervais LLP

David Estrin, C.S.

,

Adjunct Professor

,

Osgoode Hall Law School, York University

Chris Tollefson

,

Tollefson Law

Carl Spensieri

,

Vice-President, Environmental

,

Berkley Canada

Joseph Castrilli, C.S.

,

Canadian Environmental Law Association

John Georgakopoulos, C.S.

,

Willms & Shier Environmental Lawyers LLP

Ramani Nadarajah

,

Canadian Environmental Law Association