The Six-Minute Commercial Leasing Lawyer 2022
Date
Thursday, March 3, 2022 (9:00 a.m.–12:30 p.m.)
Add this event to your calendar (Downloads an .ICS file)
Alternate date: Wednesday, June 29, 2022 [click to view options]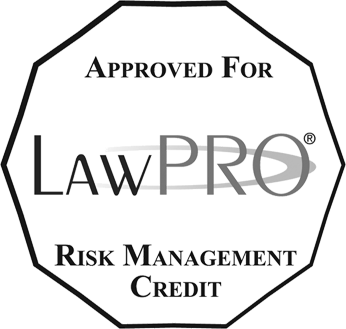 CPD Hour(s)*
3 h 30 m Substantive
0 Professionalism
Location
View this webcast-only program from your home or office computer
Additional Information
Page Count: 293
* Remember: You must attend CPD programs (in-person, live webcast, or live webcast replay) or view them on-demand to claim CPD Hours. Reading CPD materials alone does not qualify.
Co-Chairs
Joseph Grignano

,

Blake, Cassels & Graydon LLP

Karsten Lee

,

WeirFoulds LLP
Description
Having adapted to the challenges of the last two years, commercial landlords and tenants are faced with the question: what do we do now? In short, pointed, and relevant sessions, this program's six-minute format delivers analysis of and suggested approaches to the new challenges ahead.
Learn about insolvency and the obligation to pay rent during COVID shutdown periods
Gain insight into end-of-term removal and restoration obligations
Understand sales-based termination rights
Presenters
Joseph Grignano

,

Blake, Cassels & Graydon LLP

Karsten Lee

,

WeirFoulds LLP

Armen Khajetoorian

,

Cassels, Brock & Blackwell LLP

Tracy Loconte

,

Loconte Legal

Angela Mockford

,

Mockford Law

Joshua Disenhouse

,

Osler, Hoskin & Harcourt LLP

Christina Kobi

,

Minden Gross LLP

Mervyn Allen

,

McMillan LLP

Jacqueline Gasbarre

,

Owens Wright LLP

Celia Hitch

,

Senior Director, Legal Services

,

Morguard Investments Limited

Laurie Sanderson

,

Gowling WLG (Canada) LLP

Kenneth Pimentel

,

Aird & Berlis LLP

Yael Bogler

,

Borden Ladner Gervais LLP

Dina Peat

,

Daoust Vukovich LLP

Claire Renney-Dodds

,

Legal Counsel, Legal

,

The Cadillac Fairview Corporation Limited

Alex Kolandjian

,

Folger, Rubinoff LLP

Michael Cook

,

Blake, Cassels & Graydon LLP

Linda Galessiere

,

Camelino Galessiere LLP

Tatiana Zalar

,

Bennett Jones LLP

Scott Brasil

,

Stikeman Elliott LLP

Krista Chaytor

,

WeirFoulds LLP

Stuart Chaimberg

,

Miller Thomson LLP

Sheldon Disenhouse

,

Dentons Canada LLP

Konstantine Chatzidimos

,

Sherman Brown Dryer Gold