The Six-Minute Municipal Lawyer 2018
Date
Monday, May 7, 2018 (9:00 a.m.–12:00 p.m.)
Add this event to your calendar (Downloads an .ICS file)
Alternate date: Friday, November 23, 2018 [click to view options]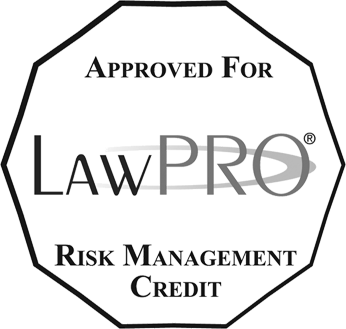 CPD Hour(s)*
3 h Substantive
0 Professionalism
Additional Information
Page Count: 469
* Remember: You must attend CPD programs or view them on demand to claim CPD Hours. Reading CPD materials alone does not qualify.
You may count recorded programs that you watch without a colleague towards your annual CPD Requirement—up to a maximum 6 hours. Recorded programs include archived webcasts, video replays, or any other on-demand program.
Chair
Jason Park

Devine Park LLP, Planning and Development Lawyers
Description
Planning, zoning, and development law is nicely suited to our Six-Minute format, offering you a keen perspective on the latest issues in land use. We check off those issues, one by one, that you'll see in your daily practice. Hear valuable advice about OMB reform and how Bill 139 will change the appeal process in Ontario. Keep up to date with information about the new growth plan for the Greater Golden Horseshoe region, and the latest on parkland dedication by-laws and cash-in-lieu payment—all pivotal to your municipal practice.
Hear valuable advice about OMB reform and how Bill 139 will change the appeal process in Ontario
Keep up to date with information about the new growth plan for the Greater Golden Horseshoe region
Get the latest on parkland dedication by-laws and cash-in-lieu policies
Understand the lessons learned from the first year of operation by the Toronto Local Appeal Body
Gain insight into recent decisions about complete applications
Presenters
Kate Lyons

,

Goodmans LLP

Jason Park

,

Devine Park LLP, Planning and Development Lawyers

Mark Flowers

,

Davies Howe Partners LLP

John Mascarin, C.S.

,

Aird & Berlis LLP

Stephen Longo

,

Walker Longo & Associates LLP

Barnet Kussner

,

WeirFoulds LLP

Raivo Uukkivi

,

Cassels Brock & Blackwell LLP

Bruce Engell

,

WeirFoulds LLP

Sarah Jacobs

,

Member

,

Ontario Municipal Board/Local Planning Appeal Tribunal

Anne Benedetti

,

Goodmans LLP

Tom Hilditch

,

President and CEO

,

Savanta

Christopher Barnett

,

DLA Piper (Canada) LLP

Signe Leisk

,

Cassels Brock & Blackwell LLP

Richard Butler

,

Willms & Shier Environmental Lawyers LLP

Raj Kehar

,

Wood Bull LLP

Isaac Tang

,

Borden Ladner Gervais LLP

Andrea Skinner

,

Aird & Berlis LLP