The Six-Minute Environmental Lawyer 2018
Date
Wednesday, October 3, 2018 (9:00 a.m.–12:00 p.m.)
Add this event to your calendar (Downloads an .ICS file)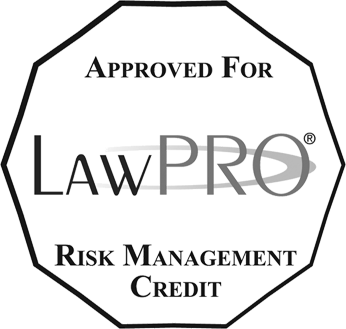 CPD Hour(s)*
3 h Substantive
0 Professionalism
Additional Information
Page Count: 162
* Remember: You must attend CPD programs or view them on demand to claim CPD Hours. Reading CPD materials alone does not qualify.
You may count recorded programs that you watch without a colleague towards your annual CPD Requirement—up to a maximum 6 hours. Recorded programs include archived webcasts, video replays, or any other on-demand program.
Chair
Donna Shier, C.S.

,

Willms & Shier Environmental Lawyers LLP
Description
Environmental law is a great fit for our Six-Minute format because it's diverse and dynamic. Our presenters can hone in on a niche development in one moment, and pull back for a wider perspective in another. They cover the key cases and policies and highlight exactly what you need to know: from the Huang decision at the Court of Appeal on the EPA statutory cause of action and tort claims, to managing two sets of standards with the new excess soil rules, to the ERT decision in SEJJ Environmental Solutions and its implications for settlement, plus more.
Learn about the appropriate measure of damages in environmental cases, using the backdrop of a textured fact situation
Get a primer on EPA, Section 18 Orders
Gain a better understanding of the modernization of approvals
Hear analysis of EPA statutory causes of action and tort claims
Determine the right approach to pollution coverage under the CGL insurance policy
Presenters
Stanley Berger, C.S.

,

Fogler, Rubinoff LLP

Janet Bobechko, C.S.

,

Norton Rose Fulbright Canada LLP

Kristi Cairns

,

Legal Counsel

,

Ministry of the Environment, Conservation and Parks

Jack Coop, C.S.

,

Fogler, Rubinoff LLP

Rosalind Cooper, C.S.

,

Fasken Martineau DuMoulin LLP

Thomas Donnelly

,

Thomas Gold Pettingill LLP

Jennifer Fairfax

,

Osler, Hoskin & Harcourt LLP

Tamara Farber, C.S.

,

Miller Thomson LLP

Matthew Gardner

,

Willms & Shier Environmental Lawyers LLP

Paula Lombardi

,

Siskinds LLP

Marc McAree, C.S.

,

Willms & Shier Environmental Lawyers LLP

Natalie Mullins

,

Gowling WLG (Canada) LLP

Ramani Nadarajah, C.S.

,

Canadian Environmental Law Association

Sarah Powell, C.S.

,

Davies Ward Phillips Vineberg LLP

Dianne Saxe, Commissioner

,

Environmental Commissioner of Ontario

Donna Shier, C.S.

,

Willms & Shier Environmental Lawyers LLP

John Tidball, C.S.

,

Miller Thomson LLP