The Six-Minute Debtor-Creditor and Insolvency Lawyer 2018
Date
Wednesday, October 17, 2018 (9:00 a.m.–12:00 p.m.)
Add this event to your calendar (Downloads an .ICS file)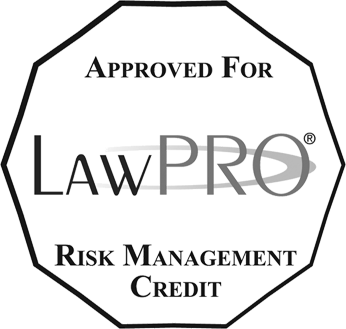 CPD Hour(s)*
3 h Substantive
0 Professionalism
Additional Information
Page Count: 253
* Remember: You must attend CPD programs or view them on demand to claim CPD Hours. Reading CPD materials alone does not qualify.
You may count recorded programs that you watch without a colleague towards your annual CPD Requirement—up to a maximum 6 hours. Recorded programs include archived webcasts, video replays, or any other on-demand program.
Co-Chairs
The Honourable Fred Myers

,

Superior Court of Justice

Michael Myers

,

Papazian | Heisey | Myers
Description
Economic bubbles burst. When will today's economy follow suit? Interest rates are slowly edging upwards, and risk-averse lenders are changing their rules: two indicators that your number of debtor-creditor and insolvency clients may increase soon. And those clients will have questions. Is it safe to invest in a mortgage syndicate? Can a Consumer Proposal be annulled? You'll need answers, and our presenters can help.
Help your clients understand whether a syndicated mortgage is a safe investment
Find out about annulling, reviving, and completing a consumer proposal
Get tips about enforcing debts in court
Learn about the validity of lien claims in bankruptcy
Raise your awareness of how to respond to and prevent internet fraud
Presenters
The Honourable Jasmine Akbarali

,

Superior Court of Justice

Harvey Chaiton

,

Chaitons LLP

Philip Cho

,

Kronis, Rotsztain, Margles, Cappel LLP

Andrew Chris

,

Normandin Chris LLP

Brendan Donovan

,

Donovan Kochman LLP

Roger Gillott

,

Osler, Hoskin & Harcourt LLP

Joel Kadish

,

Barrister and Solicitor

Stephen Karr

,

Harris Sheaffer LLP

Bobby Kofman, MBA, CIRP

,

President and Managing Director

,

KSV Advisory Inc.

Wayne Lewis

,

Beard Winter LLP

Amanda McLachlan

,

Bennett Jones LLP

The Honourable Fred Myers

,

Superior Court of Justice

Michael Myers

,

Papazian | Heisey | Myers

Angela Pollard, CPA, CMA, FCIRP, CFE, ICD.D

,

Trustee, President

,

Pollard & Associates Inc.

Kelli Preston

,

Devry Smith Frank LLP

Robert Thornton

,

Thornton Grout Finnigan LLP

Melaney Wagner

,

Goodmans LLP

Sean Zweig

,

Bennett Jones LLP