The Six-Minute Commercial Leasing Lawyer 2019 (REPLAY)
Date
Thursday, July 11, 2019 (9:00 a.m.–12:30 p.m.)
Add this event to your calendar (Downloads an .ICS file)
Alternate date: Monday, February 25, 2019 [click to view options]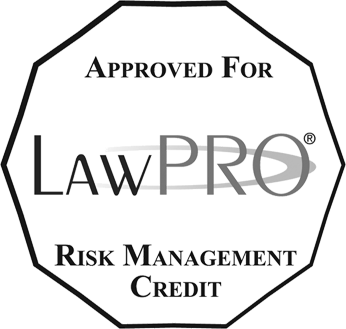 CPD Hour(s)*
3 h 30 m Substantive
0 Professionalism
Location
View this webcast-only program from your home or office computer
Description
​The sessions are short, pointed, and relevant for a reason; our Six-Minute format delivers answers to your most pressing commercial leasing questions in a tight timeframe. We've matched key topics with the most apt presenters to explain, among others, the removal and restoration obligations at the end of a lease, best practices for short-term leases, and drafting tips for clarity in your leases. Our presenters also revisit the Statute of Frauds and whether a lease needs to be in writing and signed.
Get an update about cannabis retail stores
Learn about key issues for terraces and patios
Understand how to protect your clients in offers to lease
ABOUT LIVE WEBCAST REPLAYS WITH LIVE CHAT
This live webcast replay contains an online chat feature that allows you to view the previously broadcast program and interact, share ideas, and exchange comments with fellow registrants online. If you have already registered for the program, you can view the replay at no additional fee and without re-registering.
Remember: Your CPD hours must be entered into the LSO Portal. Register for an account and log your CPD hours at https://portal.lso.ca.