The Six-Minute Commercial Leasing Lawyer 2018
Date
Thursday, February 15, 2018 (9:00 a.m.–12:30 p.m.)
Add this event to your calendar (Downloads an .ICS file)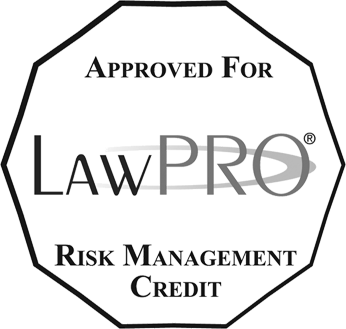 CPD Hour(s)*
3 h 30 m Substantive
0 Professionalism
Additional Information
Page Count: 271
* Remember: You must attend CPD programs (in-person, live webcast, or live webcast replay) or view them on-demand to claim CPD Hours. Reading CPD materials alone does not qualify.
Chair(s)
Joseph Grignano

,

Blake, Cassels & Graydon LLP

Alison Tortorice

,

Senior Director, Legal

The Cadillac Fairview Corporation Limited
Description
Comprehensive, focused, timely—if this is how you want to receive your commercial leasing highlights, then turn to our Six-Minute format. This is your opportunity to hear about tenant strategies to exit a lease early and about issues to consider when leasing to the first tenant in a new building. Our presenters are leading in-house and outside-leasing practitioners who bring their expert perspective on how the new Construction Lien Act may impact leases, the latest developments on effective lease drafting techniques, and much more.
Learn details about development leases
Get a primer for landlords on the world of pop-ups
Understand landlord turnkey build outs
Obtain an overview of extreme weather issues in the context of damage and destruction provisions
Hear how to approach exercising an option to extend late
Presenters
Jamie Paquin

,

Daoust Vukovich LLP

Jason Annibale

,

McMillan LLP

Sonja Homenuck

,

Dentons Canada LLP

Christina Kobi

,

Minden Gross LLP

Linda Galessiere

,

McLean & Kerr LLP

Genevieve Wong

,

Oxford Properties Group Inc

Sunita Mahant

,

In-house Counsel

,

Ivanhoe Cambridge II Inc.

Laurie Sanderson

,

Gowling WLG (Canada) LLP

Jason Park

,

Devine Park LLP, Planning and Development Lawyers

Mary Ormond

,

Build Toronto Inc.

Kate Lyons

,

Goodmans LLP

Charlene Schafer

,

McCarthy Tétrault LLP

Deborah Watkins

,

Daoust Vukovich LLP

Marco Gammone

,

Aird & Berlis LLP

Rosalyn Wallace

,

Magna International Inc

Catherine Bray

,

Borden Ladner Gervais LLP

Julie Robbins

,

Director, Legal Services

,

Morguard Investments Limited

Jordan Hill

,

Director, Legal Services, Ontario Porfolio Office

,

Cadillac Fairview Corporation Limited

Patrick Gordon

,

Blake, Cassels & Graydon LLP

C. Mario Paura

,

Stikeman Elliott LLP

Karsten Lee

,

WeirFoulds LLP